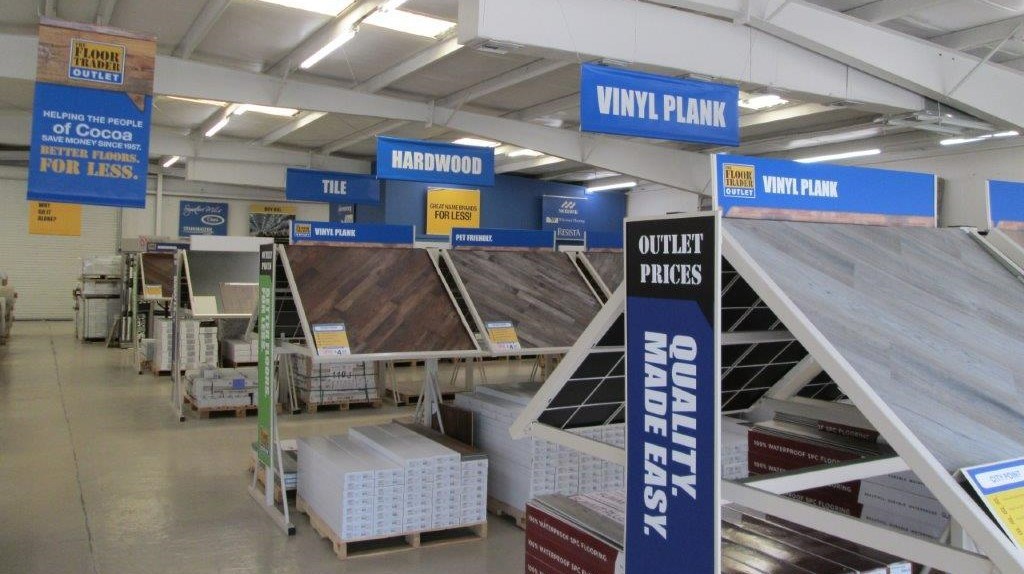 About The Floor Trader of Cocoa
Launched in 1957 by Henry Wells, The Floor Trader of Cocoa celebrates its 65th year of operation in 2022. When the store first opened, it was solely a home furniture shop, with flooring introduced to the mix 13 years later in 1970. By 1986, business was booming with supply and demand continuing to grow for floor coverings. That same year, a new 10,000 square foot building was established to support the needs of the store. This new building at 3680 US-1, Cocoa, FL, has remained the location for the Floor Trader of Cocoa ever since. 1986 also marked the year that Pat Wells purchased the family business from his father, following his graduation from Anderson University (then Anderson College) in Indiana. Pat continues to own and operate The Floor Trader of Cocoa with the mission of providing quality flooring at a reasonable price with great service and customer satisfaction!

Flooring Services
In-Store Area Rug Binding
Interior Design Support
Shop at Home
Additional Products
Shower Tile
Backsplash Tile
Carpet Padding
Area's Served
Cocoa
Port St. John
Titusville
Rockledge
Merritt Island
Why Floor Trader?
The Floor Trader is a locally owned and operated flooring store and waiting to help you find the perfect carpet or floor for your home. The Floor Trader strives to be the best in the business when it comes to price, selection, quality, customer service, and best yet in-stock flooring. Shop the Floor Trader today!
The Flooring Experts you'll find in our stores are there to help you make the right choice. With their expansive knowledge of flooring options, you know you're in good hands, and you can have confidence in every decision you make. You're sure to find a floor that fits your space, your style, and your budget.
Contact us to learn more about our products and services. We proudly serve clients in the greater Cocoa, FL area.